TOUR - 4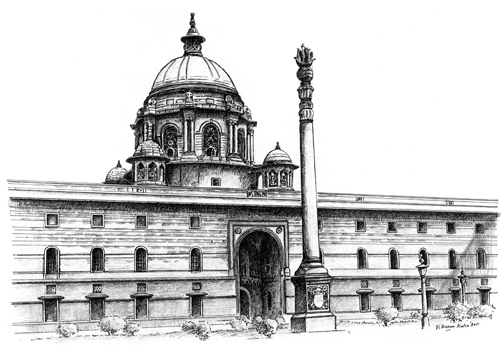 The North Block, Pen and Ink Drawing by Vikram Kalra
The Making of New Delhi
After British took over India, Calcutta was their capital. During the visit of King George 5th and Queen Mary in 1911, he declared Delhi to be the New Capital of British India and to be called 'New Delhi'. The earlier Mughal capital was, Shahjahanabad or Old Delhi.
Sir Edwin Lutyens was assigned the task to deisgn the new capital along with other architects. He laid out the central administrative area of the city. He designed the Viceroy's House on Raisina Hill and the All India War memorial and many other bunglows in New Delhi. Herbert Baker was assigned the task to design the Secretariat buildings and the Council Building.
The new capital was inaugrated on February 13th, 1931 and Lord Irwin was the first viceroy to occupy the Viceregal Lodge. New Delhi covered an approximate area of 26 sq kms and was a very well planned city. After the independence of India, the main government departments function from these buildings.
The tour is done through walking and vehicle.