TOUR - 3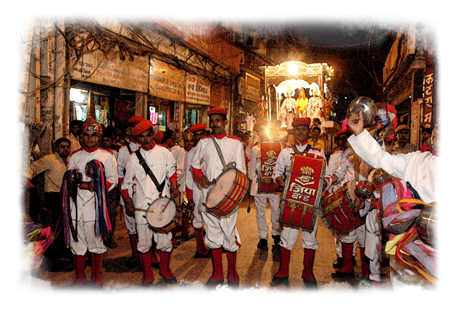 The Gods on the Move in Old Delhi, Mix Media work by Vikram Kalra
Delhi – A journey through Night
Delhi has a different charm at Night. This night walk around Chandni Chowk in Old Delhi and other parts of Delhi shows you the capital when it is most alive, in the evening. Chandni Chowk literary means the 'Moonlit Square' and it is believed that the name came from Mughal times.
You will be explained about the history of the area and highlight the remaining facades and buildings that have survived this rapidly changing area.This tour is designed to give you an insight into everyday life in Old Delhi at night. There is no fixed itinerary and you will be walking through the narrow lanes and all the hustle and bustle of Delhi at Night.
The other main focus of the tour is the overall ambience of Delhi and street food. You can expect to sample the different types of sweets at some of the oldest sweet shop in Old Delhi, freshly baked biscuits at Ballimaran and street chai (tea) as you explore the area. Before ending at an authentic restaurant for an evening meal at some of the oldest Restaurants of the city.
This tour is done through walking and partially through Rickshaw.